Kiln-Dried Wood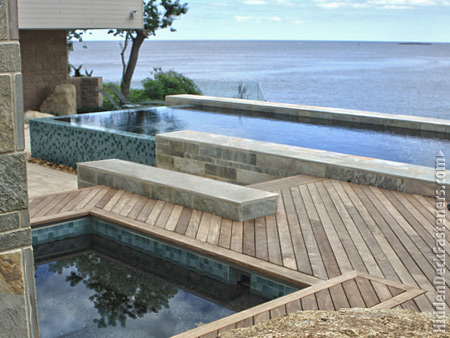 Kiln-Dried Wood Decking Looks Great With Deck Fasteners
Kiln-dried wood basically is wood decking that has been artificially controlled and not left up to nature to dry. The process of kiln-drying requires no chemicals. The wood decking is placed inside a large chamber where both heat, humidity, and airflow levels are controlled. Water evaporates at a controlled and steady pace. Kiln dried wood is recommended whenever inclement weather may be a factor and where air-drying just isn't possible. For instance, air drying decking in the Florida rainy season is a difficult task. However, if you purchase kiln-dried wood, the deck building process is easier and there are less defects overall.
Other benefits of Kiln-dried wood decking include:
Reduced shipping weight for less costs as well as easier installation
Limited drying defects such as checking/cracking
Decay and sap staining chances are significantly decreased
Contraction of deck boards is less likely
Insects that live in the wood along with their eggs & larva are exterminated naturally with no chemicals
Deck oil or finishes can be applied right after the deck has been installed
Now that you know the benefits of kiln drying, here's the best deck fastener for kiln dried wood decking.
The ExtremeKD™ deck fastener from the DeckWise® Company. was designed to match perfectly with kiln-dried wood decking. The ExtremeKD™ is a hidden deck fastener that: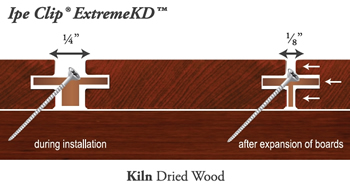 Has a hollow leg that compresses as the decking expands on its width
Despite the decking expanding, this hidden fastener holds firm to the joist
Works great with both regular deck boards & pre-grooved decking
Provides the ultimate holding power to keep your deck surface from cupping & twisting
Has a stainless steel insert to makes this deck fasteners virtually unbreakable
Regardless of the weather, hot, cold, wet, or dry, this deck fastener can hold tight for decades
Optional colors include black, brown, and gray to match your decking
Also works well with composite decking
Learn more about the DeckWise® ExtremeKD™ and why it is the best deck fastener for air-dried wood decking.